Revamping the Winnipeg Ventilator to help support life for pandemic victims
A 30-year-old ventilator model is being re-designed for the war on COVID-19 with help from Killarney's Earl Gardiner and Darren DeCock
BY KIM LANGEN
The starting gun has gone off, and it is now a race against time to provide ventilators for badly affected COVID-19 patients who can't draw breath.
Thousands of the devices are needed, and there will simply not be enough of them in Canada, in the coming days and weeks, for expected pandemic victims who develop pneumonia, and will not be able to breathe for themselves.
But a medical team in Winnipeg, which includes two Killarney natives, is currently working all-out to push out a newer, lower-cost ventilator model, based on a 30-year old device created by an intrepid retired University of Manitoba professor.
This story is really all about oxygen supply – and it actually began in Killarney Hospital, back in the early 1980s, says Darren DeCock, who grew up here, and is now a major player in the whirlwind Winnipeg Ventilator project.
"My dad, Les DeCock, was the hospital administrator here, and he was working with Earl Gardiner, who was the hospital accountant, back in 1983," said Darren DeCock, vice president, Customer Success, at Cerebra Health in Winnipeg. "They provided oxygen to Killarney Hospital. They were very entrepreneurial, and they researched this idea of piping in oxygen, instead of using tanks and concentrator devices, and came up with the idea of how to do it."
But tragedy struck in the midst of the duo's plans to modernize the hospital's oxygen dispensing.
"I was born in 1983, and that was the year my dad passed away," said Darren. "My dad was flying back from Winnipeg, after meeting with an engineering firm there, to discuss the idea of connecting several oxygen concentrators together, and to feed that into a compressor – one used to fill scuba tanks – that would then fill the large oxygen tanks used to supply the hospital. But he did not make it home safely after that meeting. His plane, a Cessna, crashed on the flight back from Winnipeg to Killarney, in freezing rain, coming down somewhere between Pilot Mound and Crystal City."
ENTREPRENEUR LES DECOCK – The late Les DeCock, Darren's father, was a ground-breaking entrepreneur back in the 1980s with his ideas of modernizing the supply of oxygen to patients in Killarney Hospital. Les worked hand-in-hand with Earl Gardiner, but Les died tragically in a plane crash in 1983, in freezing rain conditions, while en route home to Killarney after meeting in Winnipeg with design engineers for the project.
Earl Gardiner continued to work at the hospital for a few years after the loss of his friend. And he didn't give up on the idea of implementing a new oxygen delivery system at Killarney Hospital.
Four years later he came across an article in the local library, about a company in Wales, U.K., who had, in fact, figured out a way to pipe oxygen into hospitals.
"The company was in Cardiff, in Wales, called Rimer Alco," said Darren DeCock. "And Earl got involved with them, and started a RANA (Rimer Alco North America) office of his own, in the back of the MNP office in Killarney. In 1989, Earl and his family moved to Morden, and eight years later, in 1997, RANA was awarded the Manitoba Provincial Home Oxygen contract, which they still have today. In 2001, they launched the RANA Sleep Apnea Clinic in Manitoba."
Meanwhile, Darren was growing up here in Killarney, with his family, and in 2006 he graduated from the University of Manitoba, with a BA in geography and environmental science.
Then things got even more interesting.
"My uncle, Frank DeCock, had been Manitoba's Deputy Minister for Health," said Darren. "He was retired by then, but he and Earl Gardiner had enjoyed a long-time friendship, and Earl invited me to join RANA," he said. "I became part of the team in 2006, and I was there for nine years, in various positions."
Still, Earl Gardiner had more plans to hatch in the medical field.
He eventually combined forces by working hand-in hand with a celebrated university professor, Dr. Magdy Younes, now 81, who had created the Winnipeg Ventilator some 30 years earlier, in his University of Manitoba lab.
Dr. Younes was the former head of respiratory medicine at the U of M, and had retired in 2001.
"In 2015, Earl started Cerebra Health, and he invited me to join him there as director of operations," said Darren. "Earl had created the company to advance the commercialization and integration of Dr. Magdy Younes' technologies within the sleep industry. In 2016, I transitioned from RANA to Cerebra Health, and I became director of operations to help with this project."
In 2017, Cerebra acquired Dr. Younes' company, Younes Medical Technologies, and the two organizations became one.
The company continued to work on their two medical devices for sleep, but when COVID-19 hit the world stage earlier this year, beginning in Wuhan, China, their plans were upended and they radically changed course, shifting into the direction of producing ventilators.
The world had learned that this deadly new Corona virus could invoke lethal pneumonia in some patients, and that ventilators, used on sedated patients, could help save many of them.
But there weren't enough ventilators to go around.
Authorities scrambled to increase the number of ventilators, and they approached the retired professor to see if he could help, said DeCock.
"In March, Dr. Magdy Younes was contacted by NGen, Canada's Advanced Manufacturing Supercluster," said Darren. "They wanted Magdy to join a committee that was evaluating ventilator designs. He told them he had a design, the Winnipeg Ventilator, which he had created back in the 1990s. He was a respiration specialist, and he still had one of the early models at home. He said to them, 'I have an old ventilator in my basement,' and he brought it up. That's how it got started in terms of this whole project. It was amazing."
'NGen Canada,' or Next Generation Manufacturing Supercluster, is the organization leading Canada's advanced Manufacturing Supercluster, which was set up to fund and facilitate the rapid response to COVID-19, says Cerebra.
NGen Canada is in charge of managing some $230 million in funding from the Government of Canada, with the aim of leveraging Canada's manufacturing and technology strengths to build world-leading advanced manufacturing capabilities.
Within days, a team from Starfish Medical, Canada's largest medical device company, flew to Winnipeg to start working with Dr. Younes and Cerebra Health, said Darren.
Their tasks involved updating the 30-year-old device, and to prepare it for manufacturing.
The original Winnipeg Ventilator was used on a research basis in several hospitals in the United States, Canada, and Europe, and was used to care for hundreds of patients, says the company.
It was also licensed to a major manufacturer, and an updated system of the ventilator was used as the basis for commercial ventilators deployed in tens of thousands of machines in ICUs globally during the 1990s and 2000s.
"These units were used extensively during the SARS epidemic in 2003," said Cerebra in a press release. "This is a medical device with full ICU functionality, and one which does not require the hospital's delivery of air pressure in order to function. Most ventilators utilize 'blower'- based technology, and therefore compete for parts within the same limited supply chain. The Winnipeg Ventilator utilizes 'piston'- design technology, with widely available parts."
But the challenges being faced by patients with COVID-19 are not exactly the same as those exhibited by victims during SARS, explained Dr. Younes.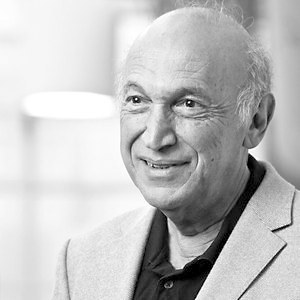 Doctor Magdy Younes
"The nature of respiratory distress in patients with COVID-19 requires different approaches to ventilator support in different patients, and in the same patient at different times," he said. "This means the ventilator must be able to deliver a range of ventilator modes, and (to deliver) oxygen concentrations of up to 100 per cent. While all standard commercial ICU ventilators meet these requirements, it is very difficult to manufacture such ventilators at the scale and speed required for the COVID-19 pandemic, and they are very expensive. The Winnipeg Ventilator is the exception."
One of the greatest challenges facing Cerebra Health, and other Canadian companies who are also trying to build ventilators, is finding parts suppliers, as the Corona virus infiltrates the entire globe.
"The big thing is creating a supply chain for parts, that can be sourced locally and in Canada," said DeCock. "There are lots of specialty parts, but our ventilator is different from other models, and it uses different parts, so we are using a different supply chain. We are not competing with other ventilator manufacturers for the same parts."
So how soon do they expect to see the new and improved Winnipeg Ventilators come on stream?
"We are still at design stage, but we are getting close to the end," said DeCock. "The next step is the manufacturing stage. We have no timeline yet, but we are targeting for sometime next month. We are working with Starfish, a medical device company, to update the design, and to provide the manufacturer package. That will tell a manufacturer exactly how to build the ventilator, with all the details.
In tandem with StarFish Medical, Regulatory and Design groups, the team is working hard to develop a requirements document to reflect the specific needs of COVID-19 patients, he added.
And they have targeted pre-production units and Regulatory Clearance with Health Canada (to take place) in May, he said.
"The process continues to be fairly fluid, and everyone is pushing to improve these dates to have a solution out as quickly as possible," said DeCock.
The drive for more ventilators has a number of companies, including Cerebra, flying, said DeCock.
"It's been a whirlwind three weeks, since we got involved," he said. "This kind of project would usually take years, and we have been doing it in months. We are trying to turn years into months. It's been fairly crazy in here for our staff."
Another plus for the re-vamped Winnipeg Ventilator is that it will likely save huge amounts of cash for the Canadian government, he added.
"A ventilator can cost up to $70,000," said DeCock. "Ours will be lower by thousands of dollars in difference."
Earl Gardiner, executive chair for Cerebra, said in a recent radio interview with CJOB that the number of orders for new ventilators could run anywhere from 4,000 to 10,000 units for Canada.
"In terms of our supply chain, I think we're really focused on what if we had to make 10,000, so it's a big number," said Gardiner. "We're working literally around the clock, and trying to take Dr. Younis' core technology, and modernize it, and ensure we can make large numbers, and do them quickly."
Prime Minister Justin Trudeau said recently that Canada currently had 5,000 existing ventilators in their inventory, and that 30,000 new ones would need to be produced to bridge the need.
And slowing the rate of infection with COVID-19 – and the subsequent need for ventilators that are in short supply – will mean that less people will die from the Coronavirus.
Plus it will give companies like Cerebra time to get into production mode, and to get the new machines out to intensive care units.
In addition, oxygen is also becoming short in countries such as the U.K., where one hospital reported that they nearly ran out of their supply last week. So far Canada has not faced that issue.
DeCock said that he was proud of his company before the pandemic, with their work on sleep disorders, sleep testing, and helping Canadians to sleep better.
But this new drive for ventilators has also filled his heart, he said.
"This project is a gift from Dr. Younes," said DeCock. "If someone needs a ventilator, and they are in ICU and they don't get a ventilator, then their chance of death could be up to 90 per cent. Their risk of death is reduced to 30 to 40 per cent with the use of a ventilator."
And DeCock hopes the Winnipeg Ventilators – once they begin coming off the production line – may one day help people in the Killarney area.
"I was born and raised in Killarney," said DeCock. "My family is still there, and I have lots of friends there. I read the paper whenever I'm home. I hope the virus doesn't get to Killarney, but if it does, and if someone needs a ventilator, we might have helped."
KILLARNEY DUO AT VENTILATOR HELM – Earl Gardiner (left), executive chair for Winnipeg company Cerebra, along with Darren DeCock, vice president, Customer Success, for Cerebra. Both men are originally from Killarney, and are working alongside Dr. Magdy Younes and medical device company Starfish Medical to update the original Winnipeg Ventilator for a new use during the COVID-19 pandemic. The design stage is nearly complete, and the next step will be preparing it for manufacture, and to eventually create up to 10,000 new ventilators for Canada, hopefully beginning in May.
THE WINNIPEG VENTILATOR – THEN AND NOW – Above, the original Winnipeg Ventilator, created around 30 years ago by Dr. Magdy Younes, former head of respiratory medicine at the University of Manitoba, and also part of today's design team. Below, an image of the updated Winnipeg Ventilator, currently being engineered for the COVID-19 crisis by Cerebra Health and Starfish Medical, and moving closer each week to a roll-out production date.